Slide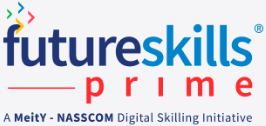 JobsAcademy & Future Skills Prime Presents Online Program
Our
Online Programs

Introduction to Ethical Hacking
Footprinting and Reconnaissance
Scanning Networks
Enumeration
Vulnerability Analysis
System Hacking
Malware Threats
Cybersecurity
Digital Leadership
Effective Communication
Internet Of Things
Innovation and Design Thinking
Influencing and Negotiation
Program Management
Project Management (Agile)
Programming Languages
Product Management
Robotic Process Automation
Software Tools & Programming Languages
3D Printing & Modeling
Web & Mobile Development
Virtual Reality
FutureSkills Prime

Presented in collaboration with:
JobsAcademy

JobsAcademy is the brand name of EduJobs Academy Pvt. Ltd for non-government programs. Jobs Academy specializes in career aligned courses with market orientation. Graduates to working professionals, people from every walk of life can find a course of their liking and take their career forward. At JobsAcademy, we make it easier for candidates to learn at their own pace with interactive learning modules, online classes, webinars and also offline classrooms. Candidates are given the flexibility to learn and also provided placement assistance and certification upon completion of course.
Presented in collaboration with:
JobsAcademy

Build Digital Fluency
Learn how AI, IoT, Cloud, UI/ UX, RPA, and Big Data are changing the way business happens in every field.
Customized course plans for consuming only relevant information
Take up Industry recommended and validated courses
Get certification
Core Advantages for Learners

NASSCOM SSC ASSESSMENT & CERTIFICATION


SSC NASSCOM is the authorized assessment & certification body for IT-ITeS National Occupational Standards (NOS), issuing nationally recognized skills certificates. Learners can now complete industry-aligned courses & appear for SSC NASSCOM assessments on FutureSkills Prime. On clearing the assessments, learners earn industry & government recognized certificates demonstrating their capabilities to prospective employers.
BENEFITS OF CERTIFICATION

Credible assessment of your skills
Kickstart your professional journey or/and enhance career prospects
Kickstart your professional journey or/and enhance career prospects
ON-PLATFORM CREDENTIALS

FutureSkills Prime includes provisions for learners to earn valuable badges and demonstrate their professional achievements in acquiring new skills on social media and career networking domains.